Art
---
Artwork by Juliana Rae


This book was written and illustrated by Juliana. She started it in November 2005 and finished it in January 2006. It is dedicated to her teachers Erin and Anne "because they think my ideas are creative." Formatted for 1024 x 768 to preserve detail.


Sunny Baudelaire, pencil, ink and watercolor, April 2005. The object in Sunny's left hand is a length of metal pipe, with visible tooth marks from where she has been biting it.


Moon Cartoon, pencil and paper, 1/1/05. Juliana has announced that she will be a cartoonist as well as an author. In this cartoon about a Moon family, the little brother is on the left, the oldest son is in the middle (note headphones, nose ring and goatee) and the Moon on the right is obviously the father.


Secret Crossword, pencil and paper, 1/1/05. Juliana has been doing a series of secret crosswords that we are not allowed to see, as the international sign language makes clear.


Cafeteria Food, Sharpie® on cardboard, Mid-December 2004. When starting out as a food critic, you don't get the best assignments.

Mother Penguin and Baby Penguin, crayons on spiral notebook, 1/3/04. Drawn in a (moving) car on the way to Dad's house. Even though the fish in her beak is clearly dead, it is very nice of the mother penguin to offer it to her baby.


Pikachu on a Jet Pack, crayons on spiral notebook, 1/3/04. Drawn in a (moving) car on the way to Dad's house. JRae said that she had dreamed about Pikachu "on a jet pack" the previous night.


Dad and the Alien Cat, pencil and construction paper, mid-December 2003. Although some might find the realistic details of the messy hair, five-o'clock-shadow, multiple chins and puffy dark circles under the eyes unflattering, Dad is very flattered that Juliana has studied his appearance so closely. This is a life drawing of Dad writing to Juliana. Behind Dad, an alien cat is busy. It has four eyes inside one big eye, four mouths inside one big mouth, two shovels for digging holes as it walks, and an extra foot on its tail "in case it needs to punish itself."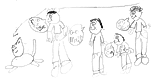 Go Mousie!, pencil and paper, 10/26/03. Like so many artists before her, Juliana does not waste media. This was found on the reverse side of her famous Mexican Cat drawing. The picture depicts a race between Maggy (sic) and Mousie. Note: This drawing is reproduced larger than usual, the better to see the fine detail, which is well worth examining.


Garbage Problem, pencil and colored pencils on sketch paper, 11/02/03. Bluck, eew, garbage! What is garbage doing here? I don't know. It's not garbage day. But, the flies like it.


Mexican Cat, pencil and paper, 10/25/03. You can tell this cat is Mexican because it has curly whiskers and a squid on its head. At least, that's how Juliana can tell. The cat is wearing a backpack. The crab is dead and it is stinky.

Dad at 14, colored pencils on sketch paper, 9/7/03. This is Juliana's conception of her Dad at age 14.


Cat Menu, markers and stickers on sketch paper, 8/10/03. Juliana made this menu for the Cat Café, the restaurant where Edgar and Mary dine. The menu items from top to bottom are Fly Scones, Mouse Latte (sorry, we're all out), Mouse Coffee, Fish Juice, Fly Eyes, Fly Wings and Mouse Toes. The menu is also written in Siamese for Siamese Cats; look between the smiley stickers and the English menu.


Pizza Cats, pencil and crayon on sketch paper, 6/22/03. The yellow cat is seated at the table in the Italian restaurant. Before him is his dish of sardines. The blue cat, identified as the chef by his toque, tosses the pizza.


I Don't Like War, pen and paper, 3/31/03? Juliana and Rowen were drawing and Juliana made this sign.


More drawings
---
Top